At Pavlic Investment Advisors, our work always begins with a conversation.
Our experts take the time to understand your entire financial picture to develop an investment plan that helps you achieve your financial goals. We are not just another wealth management team—our employees have earned the Chartered Financial Analyst (CFA) designation—the highest distinction that an investment professional can achieve.  We invest in direct stocks, bonds, and real estate investment trusts (REITs) by performing deep fundamental analysis on every investment we make with the primary objective of maximizing portfolio returns while minimizing downside risk.
We invest our own money alongside our clients to keep our interests perfectly aligned with yours.
We are a privately owned fiduciary and investment advisor with over 50 years of combined investment experience and many long-term, multi-generational client relationships.  We manage stock, bond, and REIT portfolios in search of investments with quality management teams, sustainable competitive advantages, and healthy balance sheets.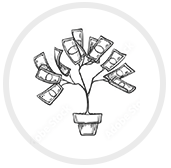 First and foremost, we are investment managers.  We invest both our money and your money with the goal of increasing wealth over time without taking on unrewarded risk.  The majority of our clients are high net worth individuals.  By performing deep due diligence on every investment we purchase, we fully understand the risks and opportunities associated with each investment.  From there, we tailor each client's investment allocation to meet their individual needs by carefully considering their holistic financial picture.
We treat your financial assets like our own and invest alongside you with our own money. We invest in direct stocks, bonds, and REITs for two main reasons. First, we want to have the best understanding of the investments we own. Second, we don't believe in charging clients an additional layer of mutual fund expense ratio fees associated with a portfolio of mutual funds. We base our transparent fee schedule on assets under management with no additional hidden fees, which purposefully aligns our success with the success of our clients.
We begin with a conversation to understand your cohesive financial picture and develop an investment plan that will help you achieve your financial goals.  From there, we determine the appropriate allocation between our three main strategies: U.S. stocks, investment grade bonds and U.S. REITs (publicly traded real estate investment trusts).
We manage equity, bond, and REIT portfolios on both a stand alone and combined basis.
Our stock portfolio is managed in a "Core Style" which includes both growth and value investments in a predominantly sector-neutral manner. Our core equity portfolio comprises 30-45 mid and large-cap stocks that are diversified across all major sectors. Our disciplined, fundamentally based, theoretically sound investment strategy focuses on growth at a reasonable valuation.
Our bond portfolio maximizes interest income with minimal volatility and risk to your investments. Our bond portfolios are comprised of 8-12 investment-grade corporate bonds that preserve principal while generating income above the rate of return one can make by holding cash in a checking or savings account. Bonds also add portfolio price stability when stock prices fluctuate.
Our REIT portfolio is comprised of the highest quality publicly traded real estate companies in the U.S., offering a dividend yield double the broader equity market and serving as an inflation hedge.  REITs offer attractive characteristics including  investing alongside the best real estate management teams in the world, low capital requirements, ample liquidity, and equity-like returns over the long term.
We would love to start a conversation with you to see how we can help.